Free Research Paper Samples, Research Proposal Examples and Tips | UsefulResearchPapers.com
❶Midterm tricks Writing Research Papers — Ranking Your Ideas Outstanding research paper topics US history research topics Complete your term papers in no time Argumentative paper topics The intro and conclusion sections Research paper on gun control Top writing prompts for high school If you're to publish your study Choosing original paper topics Philosophy term project conclusions Research paper abstract:
Featured On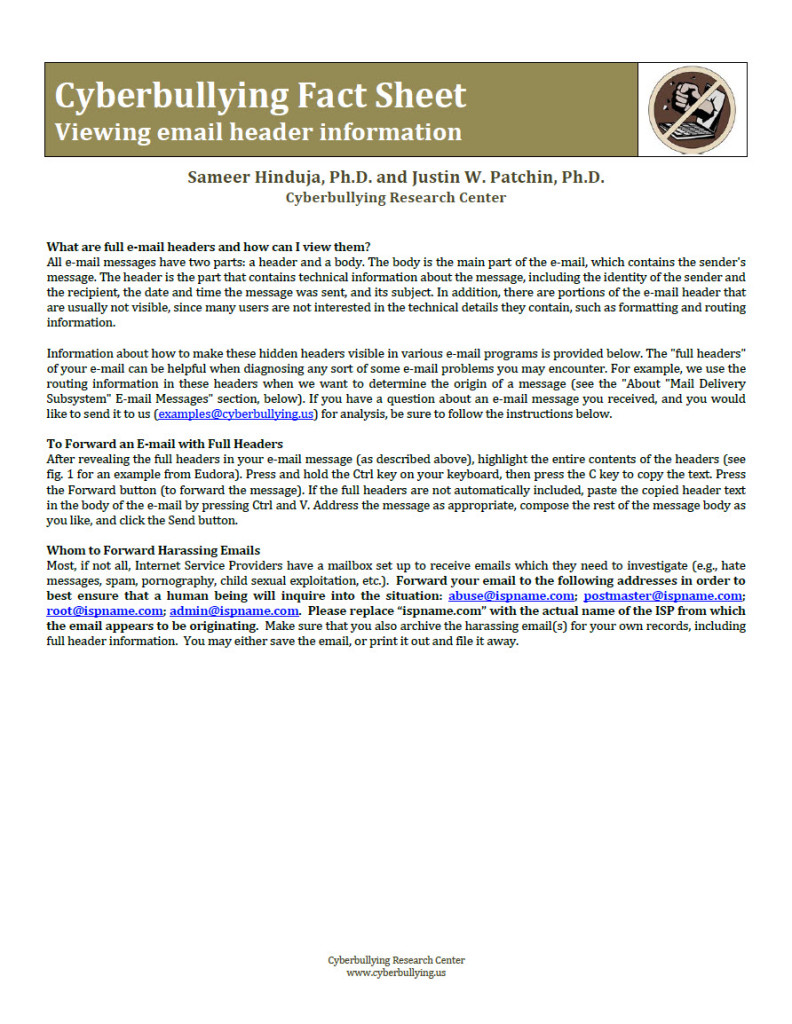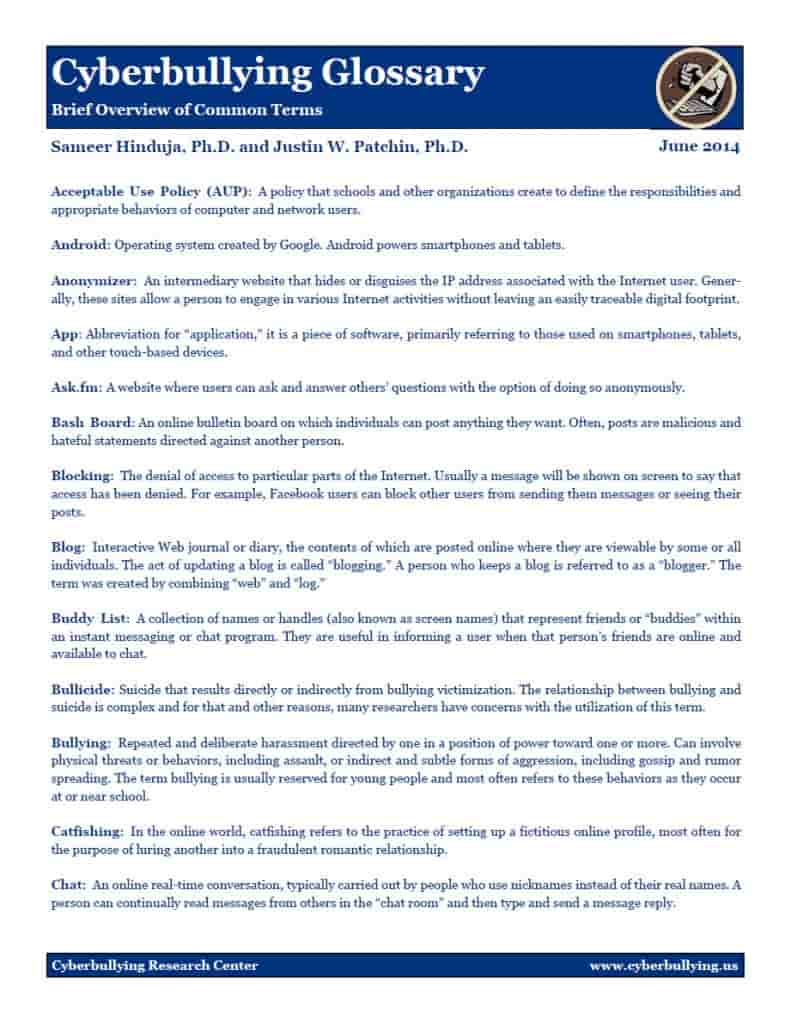 I highly suggest having him speak at your school today. Hinduja presents information that is relevant to his audience in a way that educates without using fear tactics. His statistics grab the attention of the audience and show situations of which all parents and educators need to aware. Most important is that he suggests realistic techniques to help combat cyber bullying. Thank you for an amazing day at Lake Mary Prep, Dr. It was such a pleasure spending time with you.
Each of your presentations was perfectly age-appropriate and so powerful. Our students and faculty have been buzzing about them all day. I truly hope you're able to come back to LMP soon. Hinduja, your presentation on cyberbullying was awesome! Your insight and passion to protect our children were clearly transmitted. I believe it is very important to be aware, informed and close to our children in order to avoid unwanted consequences.
Thanks for working towards a safer world! I appreciate you taking the time to present to us at the Safe School Institute. The information you brought was extremely eye opening. I have known about cyberbullying; however, I did not realize the extent to which this is happening.
As an administrator it is important to understand what is going on with our students. You gave me a better understanding so that I am better prepared as this new year begins. Sameer speaks with passion and purpose as he brings to light the realities and dangers of cyberbullying among our children today. He articulates the urgency of reaching the bullied with the truth that they are loved and valued, while also wisely discerning the need to gracefully shepherd the bully into moral living.
He equips his listeners with valuable tools, strategies, and practical resources to better identify and understand the social context of cyberbullying and to protect the children in our lives. I had the pleasure of meeting and working with Dr. Sameer Hinduja as part of a Fulbright scholarship award in Ireland. We worked together on improving a Digital Safety programme that I am involved in coordinating and I have to say his feedback was and is invaluable.
The research he conducts gives us a true insight into the reality that the youth of today face in terms of social threats. He has such a measured approach towards the topic of Cyberbullying which in this current climate is essential.
Too many times we overreact to situations around potential threats. Sameer, however, has the measured and balanced approach to step back and assess the scenario via thoughtful and analytical methods. This results in a measured and calm response with useful help for those involved rather than introducing an emotionally charged response which clouds judgement. I believe we can all learn from him. Thank you for sharing valuable information about the relationship between cyberbullying and teens.
Working in a middle school, our students are constantly faced with issues connected to Twitter and Facebook posts. As student support staff, we are working hard to help our students manage cyberbullying and assist them in stopping the cycle of bullying. My heartfelt thank you for sharing your wisdom, knowledge, and perspective with our students and parents last Thursday. There was definitely a buzz Friday — I had immediate feedback from parents talking to their kids about their experiences and habits on social media.
Your frank presentations opened some eyes and started conversations — which marks the evening as a success. School professionals need to be aware of the problems so that they can be addressed in an appropriate way. Hinduja had great suggestions for both prevention of problems and steps to take when problems occur. Patchin, wow, what a tremendous presentation!!!! Such energy and passion you have for protecting children.
The remarks and evaluations for your class were through the roof. I can definitely see us asking you to come back and present again. This training was very helpful. I really enjoyed learning about the legal aspect of cyberbullying as well as learning about the social networking sites students are using currently.
The statistics discussed really helped shed light on where we as a nation stand with regards to the prevalence of cyberbullying in our student population. I also liked seeing the videos about how kids are responding to cyberbullying and bullying within their schools.
The positive use of social media to combat bullying seems to be most effective when utilized by peers so this really helps us as a school to plan our anti-bullying campaigns around student involvement. All the interventions discussed help guide our responses to cyberbullying and the way we will educate our students on it.
We also loved hearing about the startswithus campaign the students at the end of the training touched on. We have started utilizing this campaign within our own building with teachers modeling the pinning of clothespins first and then passing them down to the student body. I am a doctoral student writing my dissertation in the area of cyberbullying and was attracted to this seminar because Dr. Hinduja has written so many of the cutting-edge research papers on this topic.
His website is the leading site in this field for informative and helpful material for educators, parents, students, and policy makers.
Despite the horrific content, what cyber bullying is and the tragic consequences there have been and could be if we do not act decisively and compassionately as educators and parents, Sameer presents with the eye on positive change and ultimate idealism. He is clearly passionate about this topic and it is imperative that as many educators and parents as possible learn about this extremely disturbing aspect of technology in our world today.
Sameer is in a unique position as Co-Director of the Cyberbullying Research Center to be able to give us accurate and relevant information in a manner that is both compellingand supportive. Thank you Sameer for the very informative and engaging presentation on cyberbullying and practicing positive online behaviour.
After an hour of speaking, Sameer still had full attention from just over high school students. His presentation provided not only real life examples of online behavior and bullying, but also included Sameer's own personal experiences, which the students could very much relate to.
One of many responses from the students included the following, "I want to be a speaker when I'm older and encourage kids to not cyberbully just like Sameer. I just wanted to thank you again for your excellent presentations to our students, teachers and parents. Your information was so helpful. Many students in the Middle School learned new information and had great discussions after they heard your presentation. Your presentation was one of the most well received, across all groups, of any that we have had at our school.
You receive my highest recommendation. Your seminar presented incredibly important information and all of the participants walked away with a deeper understanding of cyberbullying, ways to help prevent it, and ways to address and respond to it with students. All of the evaluations were very positive and said the information you presented was meaningful and worthwhile to know. The teachers will use the resources you provided them. Your outreach to help in cyberbullying situations that might arise went above and beyond, and we truly feel grateful to know that we have an advocate in the community.
As a professional that has to intervene, investigate, and provide guidance within situations that arise almost daily due to cyberbullying, I am always looking for ways to improve my work along with making the process more efficient. By attending the Comprehensive Cyberbullying Prevention workshop and listening to Sameer share his insight on this ever growing concern within schools I was able to gain multiple useful tools, ideas and new legal perspectives within the subject matter.
Sameer Hinduja is an engaging professional that has something to offer to all individuals who work with youth. At a time when technology has become the lifeline for our kids, Dr.
Hinduja and Patchin are not only the most knowledgeable team in the field of cyberbullying right now, they are the most engaging and fun. Their thorough discussion of the legal history of cyberbullying and free speech is fascinating, and is an essential building block of knowledge for educators and policymakers. Furthermore — at a time when keeping our kids safe while socializing online is more important than ever before — they share and detail practical strategies and solutions that school districts can and should implement today.
Sameer Hinduja recently presented two workshops at our Bullying Prevention and Intervention Conference to an audience of almost The attendees were school administrators, educators, and counselors, as well as community mental health representatives. The presentations went above and beyond our expectations. Hinduja is a highly skilled and extremely knowledgeable presenter that is able to actively engage his audience while sharing his expertise regarding teen technology use and misuse.
Hinduja designed and executed both presentations after communicating with our committee to ensure our expectations for content and methodology were met. We highly recommend Dr. Hinduja and look forward to his continued support. I appreciated his speaking approach because it kept me alert and I was not bored with statistics.
He is very knowledgeable and passionate about his work. Although I was aware of cyberbullying I was taken aback by the statistics of the common practice it has become, age of victims and aggressors, but most of all the intensity of the abuse. I appreciate the generosity of allowing us to access his free resources; it is a great help in implementing education and change amongst our youth.
I walked out of the sessions with a new way of looking at combating the problem: I look forward to going back and building our blogs and chat rooms for our groups!
These guys were to the point, did not waste our time with fillers, and left us with enough curiosity to go home and search out these sites to become familiar with them. We NEED to stay in step with our teens and adolescents as they mature into young adults. I found the presentation very informative. I am not that far removed from the age of my students yet I was astonished by the number of websites that are being used for cyberbullying and negative social interactions.
I had never even heard of many of the sites that were discussed in the presentation! The presentation was such an eye-opener and I was very grateful for the resources and materials that were provided to conference attendants. The websites are so thorough and I will definitely use them to help my school with their anti-bullying policies and programming. I had the opportunity to hear Dr. Hinduja present at our Safe Schools Conference in the fall and I knew it would be an excellent opportunity for my students, staff and community.
I invited him to my school to share his expertise with our students during two different presentations and he was available for a teacher roundtable and a community meeting in the evening. He shared real world experiences, data and made connections for the students and parents highlighting the importance of internet safety and etiquette. His passion for cyber-safety and his ability to relate to students, teachers and parents made the presentation extremely valuable!
Sameer Hinduja educated Williston students on Tuesday and a gathering of parents the evening before about the clear and present dangers of teenage use of social media. An expert in his field, Dr. One aspect of his message was not especially new: Yet the advice he gave students was newly framed for them. Hinduja also focused as well on the world of cyberbullying, interspersing his lecture with YouTube videos made by teens who have suffered from the humiliating effects of campaigns waged against them.
Thank you for a very informative, insightful presentation. I plan on taking this information and helping to make our school district a more cyber-friendly place. I was shocked at the statistics presented to us and was unaware how prevalent cyberbullying is today. The conference was very informative and I feel I am much better prepared to face this issue in my classroom.
I value instructional time so I allow very few assemblies or guest speakers. Sameer was recommended to us and after doing our research we felt he could fill in a gap for us. We are constantly telling our students about cyberbullying, social media, and the implications for years to come.
Students just turn us off the minute we begin to speak about their cell phones, just like they turn off their parents. Sameer was able to bring a level of awareness to the students by actually allowing them to anonymously answer questions using their cell phones during the assembly.
This real-time data allowed them to see the attitudes and behaviors of the entire student body - not national data or state data - which brought it home to them. I received lots of comments from the students about the impact this presentation made on them. My principal and I saw you a few years back. Recently my daughter, a 7th grader, came home and spoke of your presentation.
Hinduja was a captivating speaker. His passion for keeping all of us safe online, but especially for protecting young children, is contagious. The teachers and administrators loved Dr.
Many teachers left the conference telling me that this was the best professional development they had been to! Three days later the school district was still a buzz about the conference and our wonderful lineup of speakers, but especially Dr. Thank you for sharing your expertise and your research on Cyberbullying with the District Safety and Security Directors at the March Statewide Meeting.
Your presentation was most relevant to the audience of both law enforcement officers and educators. As a matter of fact, it served as a catalyst to begin the necessary dialogue needed between all agencies so that we can address the most potentially dangerous behaviors that occur all to often in our schools and communities.
You communicated most eloquently and so effectively, the importance of being skillful with technology, so that we can responsibly understand and monitor the online environments of our youth. We hope that you will accept our invitation to attend future meetings. Our future forums will be designed so that we will share the unique best practices and lessons learned that relate to the Cyberviolence incidents we experience in our respected roles.
Hinduja's presentation immediately grabbed the attention of the students in the audience. He does not preach about staying off of social media, but rather he asks students to stop and think about what they are posting online. Students remained engaged and loved using their phones for flash polls throughout his presentation. The content was relevant and current, including a news story from less than two weeks before he came to our school.
I am so glad he came to speak to our students. I attended the Cyberbullying training yesterday afternoon. I am looking forward to follow-up sessions and more information to use with teachers, parents and students. Your team did an awesome job! Numerous contributors mentioned to me that they found the presentation insightful and appreciated hearing from one of the foremost experts in the field.
If we knew that our contributors would have so many questions for Dr. Hinduja we would have increased the time allotted for his workshop. Not only did Dr. Hinduja educate our community about the issue of cyberbullying but he provided pertinent real-life examples of the practice and offered suggestions for combating the problem.
I would recommend him to any online community which would like to stop this destructive behavior. What an enriching experience you provided our Pyle community during your recent visit here. I really appreciate how you open yourself up to everyone in each audience you are with and break down information with a candidness, realness, and undeniable coolness.
You really rock and are making a difference in this world! I learned so much about cyberbullying, especially about the laws as it relates to this issue. Idefinitely have a better understanding of cyberbullying now. Hinduja was right on target with his presentation. He used media and real world examples to keep things interesting, and his personal testimony helped me connect with his presentation even more.
This was a wonderful training! Hinduja's presentation on school climate and cyberbullying was enlightening and entertaining. I came away with many concrete ways to prevent cyberbullying and building a positive climate in my high school. The workshop on Cyberbullying offered at NAU was informative and timely. You gave me tools that I will share with them so that they may be safe as they travel the cyber highway.
The format of the workshop was refreshing. We were treated as professionals with respect and dignity, the opportunity to ask questions and share some experiences was very valuable. The cyberbullying legislation is overwhelming and can be confusing. Hinduja not only shared the facts, but great perspective that was empathetic to school districts and the community agencies working with them.
He understands the real life situations, has done his research and is able to articulate that with a supportive message. At the same time, his orientation toward youth development and youth centered ideology is critical to what needs to be done. He believes in young people and the adults that care about them. Great information - hope to use this information to inform parents and incorporate some into our safety lessons for our 4th and 5th graders.
We had a wonderful day, extremely informative; each presentation was tailored for the audience. The Lower School Presentation was very engaging; there was great student participation. Students connected with the presenter and with his use of a variety of user-friendly headings and subheadings prior to talking about the topic.
The parents walked away from their session with valuable information; we could easily have had an additional hour or two for dialogue and the exchange of thoughts. The Middle School was also full of energy. The students were enthusiastic and participated in various questions; they also left with an increased knowledge base. The Upper School was great; the majority of the students were captivated by Dr. The flash polling was exceptional; it was a very interactive touch for the students with insightful questions and answers.
The entire day was an outstanding presentation, filled with high energy and a wealth of information! His evening presentation with the parents was especially informative. With visual aids and handouts, Dr. Hinduja did an outstanding job of covering the world of social networking sites and then responding to their questions and concerns. Overall, we were very pleased, and are even talking about having him come and speak again some time.
Sameer was very insightful. It was clear that much time and consideration was put into his presentation. He had a great mix of facts, real world examples, and resources. My eyes were opened with all that he spoke on. Sameer Hinduja came to speak at our Annual Victim Services Conference in Wyoming and highlighted many interesting and relative topics. The information presented was interesting, useful, and Sameer presented in a way to make sure we not only learned information but enjoyed the presentation with laughs as well.
Many people enjoyed his presentations very much and have asked him back for future presentations. Your seminar on Cyberbullying was one of the best seminars that I have attended in several years. The information was very pertinent to my middle school students and very up to date. This made the seminar very relevant. Also, that fact that you allowed us plenty of opportunities to ask questions and have discussions on the different topics you were talking about.
You treated us all like professionals, with respect. As a Head of Middle School, I felt it was critical to address the issues of bullying and social media with our community. I came across Dr. He responded in less than 24 hours and gave me his cell phone number. From that point forward, he has been incredibly responsive and available, not to mention professional and personable.
We had the pleasure of inviting Dr. Hinduja to campus last month. He gave 3 distinct presentations: Each presentation was effective and engaging for the targeted audience. His message of using social media for positive outcome was communicated as was the importance of adult involvement in the digital life of kids.
After each presentation, I received many compliments and our student body is already actively making plans to follow some of his suggestions. I believe our awareness has increased and we, as a faculty, have tangible data to support our initiatives as well as concrete ideas on where to start and what path to take as we do our part to keep our youth safe.
Students felt they could relate well to Dr. He understood the significance of technology in their lives and was respectful of them. He was funny and charismatic and connected with the kids appropriately. Sameer was able to deliver his message in a way that was accessible to all. Probably the greatest testimonial to the effectiveness of his message is that students and faculty related that they checked and changed their Facebook settings and culled their friends list as a result of the assembly.
Parents were very thankful to receive information in a way that could open up communication channels with their children. Sameer does not use scare tactics but simply presents the challenges and opportunities of social networking in an authentic and accessible way. Hinduja did a thorough and comprehensive presentation of issues regarding social media. This young, gifted professor is impressive and a research guru on the subject. I appreciate that his work includes legal and professional responsibilities regarding these issues.
He reminded us to let students spear-head and become involved in solving their own issues. The clothespin activity will be presented to our student council today to get the pinning started. We will use our PIE Partners in Education Dept , principals, counselors and teachers to work together with our students. One of the most valuable conference I have ever attended. Not only was the information current and presented in a user friendly way - but Dr.
Hinduja's passion for educating everyone in the area of cyberbullying was phenomenal. You walk away from the conference feeling that the information you have gained can certainly help make a difference in keeping our children and students safe. You presented authentic information that directly related to our current generation of teens. Listening to your keynote was informative and empowering. Information was empirically vetted and practical strategies or positions were shared to enable principals to take action.
Our high school peer trainers not only walked away with the tools to address and counter cyberbullying……. We are already planning on bringing Sameer back to Arizona.
Our students and faculty have all responded very positively. Our faculty was also appreciative of your presentations, your straightforward approach, and the way in which you timed things within your presentation for example, the use of flash polling in order to maintain the attention of the your audience. I will definitely be in touch in the future and look forward to working with you again.
What a terrific presentation. I cannot begin to tell you how impressed everyone was with your presentation. If I heard it once, I heard it a hundred times We are donating them to the UWSP education dept. Here's a story you will love. On Saturday evening of our convention, there was an athletic banquet taking place in the adjoining rooms.
One of the parents saw your book on our registration table and came over to ask about it and said her daughter is a victim. She bought a book and got all the info on you and the reasearch you've done.
Now, that's what I call "making a difference. It was such a pleasure to meet you and work with you on this project. Thank you so much for the time you spent with the students at our school.
Several parents and the Principal of our school, Ms. Rogers, told me stories of how you impacted our kids. Your specific advice andwonderful demeanor touched so many of our children today. We look forward to bringing you back to our school again and again. Your advice is invaluable to children of all ages. I really enjoyed this workshop. Cyberbullying is a topic that needs some light shed on it. I was excited to see something brought to our area. I was excited to hear the featured speaker, Dr.
Sameer Hinduja share his insights and understanding of this timely and complex issue facing our youth. As a school counselor with many years of experience working with young people, I believe this is one of the most challenging issues we face today. As an anti-bullying trainer, I have utilized Dr. To have an opportunity to listen to and learn from Dr. Hinduja, in person, was valuable and educational, as well as entertaining. I would encourage educators at all levels to seize the opportunity for themselves.
There are so many complex aspects of why children do not come to school daily. The session on cyberbullying put school attendance at a much deeper level for me. Based on what I learned my colleagues and I are in the process of preparing forums for students, parents, and school staff on the topic of cyberbullying. This is an important topic that all need to be aware of. Hinduja speak was both engaging and informative. The topics that he addressed are highly relevant. As a high school teacher, I see the significant impact that technology has on the lives of our students.
What I learned from Dr. Hinduja has provided me with a basis of information to use as I begin to work with other staff at my school to develop and implement programs to teach our students how to use technology ethically and act as responsible cyber-citizens.
Sameer Hinduja is a brilliant and engaging speaker. Our participants found his sessions to be both informative and enjoyable. We would definitely recommend him to others and look forward to working with him again!
I was so pleased with Dr. He offered a well-planned and well-executed presentation. His passion is contagious. The participants came away with information relevant to their jobs as well as practical solutions to cyberbullying. I would welcome any opportunity to work with Dr. Hinduja in the future. Hinduja delivered a wonderful presentation that was very informative for the parents of our school community. Our parents walked away with a deeper understanding of cyberbullying, appropriate use of social media, and how, as parents, we can address and help guide our children.
Hinduja spoke with passion and brought to light the reality of cyberbullying, and the dangers and advantages of technology. We were very fortunate to have him present to our parents and look forward to his visit with the Middle School students later this year.
I have recommended Dr. Patchin to schools this morning. He related very well to all the different levels of his audiences. He did a very good job engaging the audiences and keeping their attention.
He was very open and willing to answer all questions posed by the audiences. His experiences and authentic stories were very engaging for the audiences. Sameer Hinduja is an eloquent and enthusiastic speaker. His presentation on cyber bullying was very effective and well received by our employees as he addressed how parents and the community can work together to solve this issue. Sound advice was shared along with an inspiring movie which set the tone for his presentation.
He uses networking, real-world situations, and extensive research to shape his content. Without complaint, he tailored his presentation to fit our curriculum needs, and adjusted it according to our time requirements.
He came to our training overly prepared and extremely well-organized. Hinduja has a vast knowledge and real passion for the topics of cyber-bullying and safe social networking, and that was very evident throughout the day.
He didn't need any fancy gadgets or tricks up his sleeve to get the audience mesmerized. The flawless way he delivered the information was enough. In fact, months later, I am still getting rave reviews about him.
Simply put- when he speaks, people listen. His content is relevant and timely more today than ever. Hinduja made a huge impact, and given the chance, every single person who attended our training agreed that they would return to listen to him speak again. To highly recommend Dr. Hinduja would feel like an understatement.
Thanks for a really good workshop. Hinduja's presentation was informing and enlightening. His research and knowledge provided me with some immediate tools and resources to take back to my school. The coolest part was the live text survey. I've got to learn how to do that at my next conference!
I enjoyed your cyberbullying workshop in North Carolina today. It was very well organized, clear, and reflected your obviously extensive knowledge of the subject. You also responded to questions very sensitively, and I was particularly impressed with how respectfully you interacted with [a sixteen-year-old in the audience].
Your objective, calm and thorough summary of the pervasive reach of cyberbullying in the lives of our children was instructive. Teachers, school board members and parents who are not aware of the complexity of this topic would benefit from hearing your presentation. Patchin came to our school and community and presented to our 3rdth grade students, staff, and community members. His knowledge is vast and he has a way to relate to all ages of students, staff, and parents in his knowledge of cyberbullying and beyond.
His examples were super and his stories were priceless and hit close to home to all involved. Sameer Hinduja was the guest speaker. Even as an adult, I was a little apprehensive about sitting at a designated table, staring at unfamiliar faces, wondering how this would all go down, and could only imagine how the teens were feeling. Hinduja quickly captivated our attention by asking us to take out our cell phones and respond to his posted question. Immediately I knew I would like this guy because the first thing he did was remind us that technology is here to stay and will only become more a part of our daily routine, in class or not.
We live in a time where we should embrace the technology and make sure others know how to use it safely and in a positive way. Not only did I enjoy the manner in which Dr. Hinduja delivered his ideas, but what he chose to speak about was relevant. Hinduja, for taking the time to share and make a difference. The Meadowbrook School of Weston, Massachusetts is grateful and appreciative of the half day you spent with our children and faculty.
You offered three completely different yet equally effective workshops on cyberbullying and on-line safety among numerous topics. The parents unanimously commented to me that your presentation was the best they had attended in this area. Your talk with them was factual, informative, poignant, supportive and emotional. Your presentations to our children in grades 3, 4 and 5 and then again to grades 6, 7 and 8 were equally informative but uniquely tailored to each age group.
Additionally, you were authentic in your presentation and very personable, witty and caring. You captured their attention, ignited their interest and fostered instantaneous believability with all of them.
The level of questioning from them indicates the level of trust you earned with them. At the end of three workshops you gave freely of your time in the faculty room so that you could be a resource to teachers seeking greater understanding and clarity. Asynchronic is like social networks as in: As there are many ways that the bullies bully the victims, the victims have many effects to being bullied. The effects of cyberbullying can be serious or pretty calm.
Some of the calm effects are: It does not help that the bully can remain anonymous which would make feelings of fear that much higher.
Feeling exposed and humiliated is because the bulying happens in cyberspace, many kids know that when it is online it is basically permanent on there, which is why the bullies do it that way and why the victims feel so exposed. The victims also feel humiliated when its over text because they know they can share it with many people and they can send a mass text. Feeling dissatisfied with oneself is because it is mostly targeted to where the victim is most vulnerable.
With that they feel more and more useless, usually with this they start to harm themselves, which leads us into more serious effects such as: Feeling angry or vengeful is when a victim gets angry about what happens to them so they feel the need to take revenge on the bully.
Many victims start to feel hopeless and they lose interest in what was once interesting to them, they also spend less time interacting with family and friends. Feeling alone and isolated leads to teenagers being excluded at school, it is very painful for teens because teens just want to fit in and other teens can be very crucial. In some cases they will drop out of school or stop their education after high school.
Victims start to feel depressed because the bullying lower their self esteem and self confidence. When victims are bullied they often get headaches or stomachaches. The stress caused can relate to some skin ulcers or skin conditions. This will also affect their eating habits, and their sleep patterns. Feeling suicidal is when kids are always tormented, they usually feel hopeless at this point. They may be feeling the only way to escape all this torture is by suicide.
At that point they may even fantasize about it What. There are very many effects to cyberbullying. Cyberbullying has become a bigger situation then what it needs to be. Due to all the technology, cyberbullying has become more frequent.
Which means victims have been feeling less safe at home, because it can happen at home. No one should feel like they are worthless or useless to the world, everyone has a place in this world for a reason. You are commenting using your WordPress. You are commenting using your Twitter account. You are commenting using your Facebook account.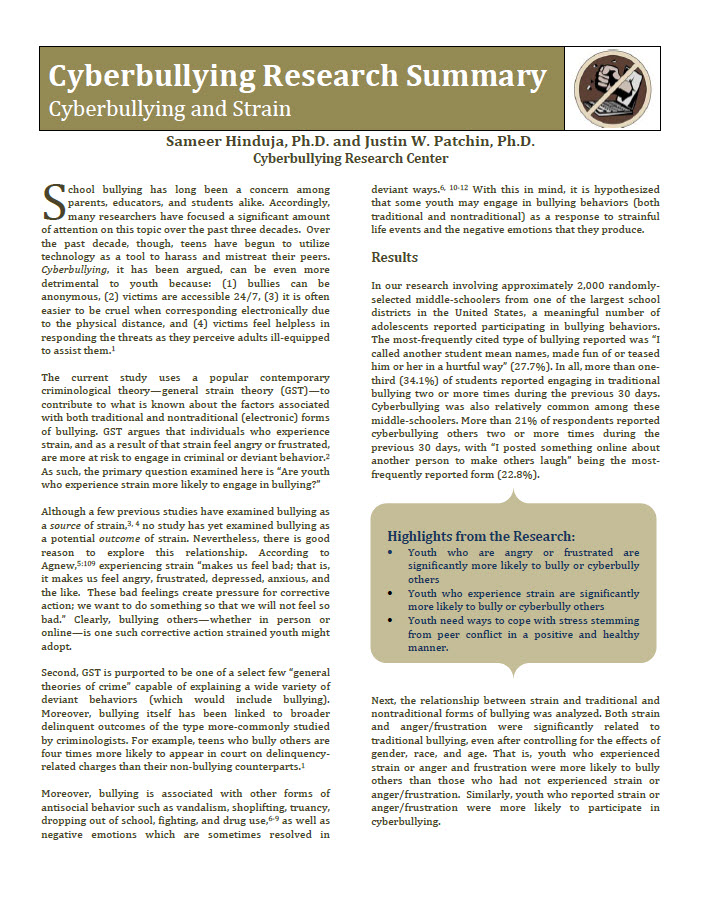 Main Topics